Costume Guide of the The Umbrella Academy Ben Hargreeves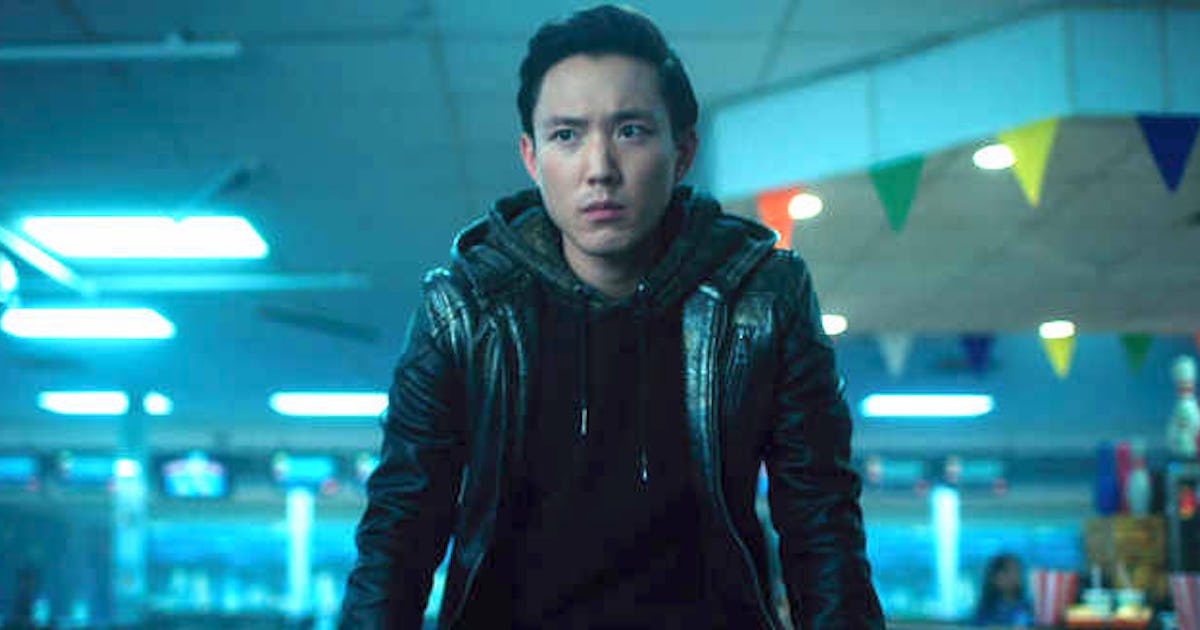 Ben Hargreeves is a fictional character in the Netflix supernatural drama series The Umbrella Academy ,portrayed by the actor Justin H.Min. Ben is designated as Number 6 and one of the seven babies adopted by Sir Reginald Hargreeves with the intention to train them to save the world. Ben Hargreeves has the ability to summon eldritch creatures through a portal to another dimension located in his body. Ben Hargreeves wears black over black outfit that suits his personality and his style will also suit you and give you a new manner of clothing. We suggest you wear Ben Hargreeves Costume and look adorable in black outfits this winter. If you want to wear the same style of Ben,you need to follow our below given guide.
The Umbrella Academy Ben Hargreeves Jacket
In the first place,we are putting forward the most handsome classic black jacket,this jacket has a lot of attraction and charm and also completes your Ben Hargreeves Costume. The jacket is perfectly designed to keep you warm and cosy in severe cold and you can wear this jacket over other apparels,aside of this jacket with complete cosplay provides you with an exact look of your character. The Ben Hargreeves Jacket is projected by genuine leather,soft viscose lining,zippered closure,hoodie attached,full-length sleeves with open hem cuffs,chest and waist zippered closure.
Ben Hargreeves is mostly seen wearing this simple black hoodie under his jacket and looks so handsome. If you want to wear Ben's style,you need to shop this soft black hoodie and complete your Ben Hargreeves Costume. You can also wear this hoodie with your jeans to get an attractive look. The Ben Hargreeves Hoodie is projected by fleece material,zippered closure,full-length sleeves with fit cuffs,waist pockets.
We are presenting you these tight and fit black pants to wear with your Ben Hargreeves Costume. These pants are comfortable to wear,it is sweat observant that will comfy you all day long. You can also wear these pants with other jackets or hoodies in your wardrobe. The Ben Hargreeves Pants are projected by cotton,zip fly button closure,skinny-fit style.
Above all else,these black shoes are also a beautiful part of Ben Hargreeves Costume,these shoes are beautifully designed and comfort you as long as you wear them. If you want to take graceful steps with comfort,you should wear these shoes whether with complete cosplay or with other apparels. The Ben Hargreeves Black Shoes are projected by leather-like material,padded insole,synthetic sole with medium heels,lace-up closure. All above items are projected by premium quality and are accurate replicas of one worn by actor Justin H.Min being Ben Hargreeves in the Netflix series The Umbrella Academy. If you purchase all these items from our store,you can shop them at very economical prices that will surely meet your pocket. Make a quick visit at our store and get high-quality,fine stitching,best projection and enjoy royal treatment for our valuable customers. Now what are you thinking for! Just grab Ben Hargreeves Costume and wear each item in different ways on different occasions.