Costume Guide of The Star Wars Sabine Wren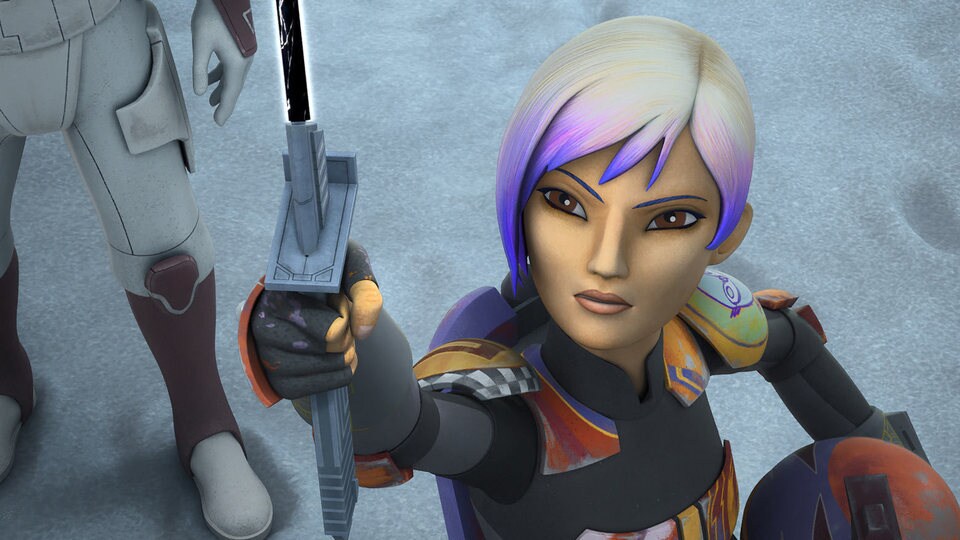 You can get a different and unique look with a lot of attraction at Halloween or Comic Con if you wear Sabine Wren Costume, the most powerful character and superhero in the animated series Star Wars. Sabine Wren is a human female Mandalorian warrior and revolutionary leader during the early rebellion against the Galactic Empire. She is a master in building weapons and believes to use them for peace. Sabine is not only brave but also a gorgeous lady,she wears a multicolored costume that has enchantment. If you are a huge fan of Sabine Wren and want to look like her,you have to follow our below given guide.
At first,we are presenting this multicolored face mask to complete your Sabine Wren Costume that will fit to your head and give you an exact look of character. The Sabine Wren Face Mask is projected by plastic material,easy and comfortable to wear.
With cosplay,you have to take on the perfect facial appearance of your character.For this purpose,we present you Sabine Wren Hair Wig to wear with Sabine Wren Costume. The wig is projected by fibers but gives a natural hair look,you can wear this wig in different role play or stage performances.
Here,we present you a Sabine Wren Costume that is a complete package which includes jumpsuit,belt and mask. If you shop this costume,you can cut your losses and shop for a costume at one price. To shop this Sabine Wren Costume will be fair and square deal for every penny wise woman. The costume is projected by polyester material and has a pull on style.
These fingerless gloves are an all-important object to shop and wear with Sabine Wren Costume. These gloves you can also wear in winter while doing work,they will fit to your palm and wrist and give you full support. The Sabine Wren Fingerless Gloves are projected by nylon that comfort you as long as you wear them.
This is a very beautiful and useful part of your Sabine Wren Costume,you have to wear it over your costume to get an exact look of character. You can wear this belt on other pants to get an attractive look. The belt is made up of leather that makes it ageless.
Superheroes' exact look is impossible without weapons. To give you a perfect appearance of Sabine Wren,we present to you this blaster that has the perfect look of one used in the series. This blaster is harm-free and easy to use,it is made up of high-quality plastic. You can also shop this blaster for your kids as a gift.
Lastly, we suggest you wear these black shoes with Sabine Wren Costume. The shoes are comfortable to wear and have a unique style. You can also wear them with other apparels to take easy steps towards your destiny. To wear these shoes at work will be your smart choice. The Sabine Wren Black Shoes are projected by synthetic material,rubber sole,and pull on style. All above items are made up of premium quality and authentic replicas of each item is worn by superhero Sabine Wren in the animated series Star Wars. If you shop all these items from our store,you can shop them at very economical prices. Just visit our store and get high-quality,fine stitching,best projection and enjoy royal treatment for our valuable customers. Now what are you thinking for! Just grab your Sabine Wren Costume and make your Halloween or Comic Con memorable.